Our Services

Pattern Manufacturing and GRP Fibreglass Moulding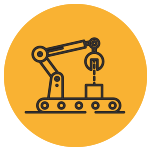 Here at Darwin Composites, we are experienced in all aspects of pattern manufacturing and GRP fibreglass moulding working from our base in Shrewsbury and UK. Whether for a bespoke one-off product, or for large production runs, we can design, craft and build to meet your exact needs. We follow various fibreglass moulding processes including hand lay-up or spray application using a state of the art fluid proportioning machine, RTM and infusion.
Always putting our customers' needs first, we make sure that you're happy with every stage of the Fibreglass moulding manufacturing. We are proud of the great relationships we forge with clients, ensuring we offer all customers the most practical and economical methods and solutions to suit their unique requirements.
We have extensive experience in manufacturing mouldings for various industries including water tank moulds for data cooling centres in the West Midlands region. The tanks must be strong and durable and specified to hold up to 9000 litres of water. The moulds we have produced successfully deliver a large production run of tanks all within a tolerance of 1mm over 4 metres.
For another customer, we manufacture moulds to produce fire retardant fibreglass panels for various sized 360 degree domes. From the customer's design specification, we worked closely with CNC machinists to achieve exact radial requirements. This resulted in a highly accurate mould. The panels are viewed by the public and therefore had to have a high gloss finish with no faults.
As well as moulds for large production runs, we manufacture smaller moulds for bespoke products within various industries such as motorsport and automotive. These include carbonfibre airboxes, chassis and wing modifications.
At Darwin Composites, we can design and manufacture craft any Fibreglass mould to exact specifications. No matter what size or shape, we can offer a solution.
---